The Founding
13 June 2014.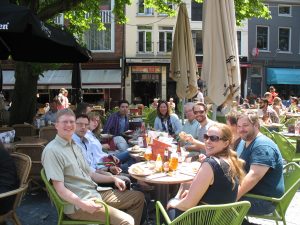 The initial plans for the North American Research Network in Historical Sociolinguistics (NARNiHS) were hatched by Mark Richard Lauersdorf, Fernando Tejedo-Herrero, and Rob Howell over beverages at a café in Utrecht in the Netherlands in the afterglow of the conference Mobility, variability and changing literacies in Modern Times (organized by Anita Auer and Mikko Laitinen).  In the following months, Lauersdorf and Tejedo-Herrero were joined by Joe Salmons and Don Tuten to move the project forward to its first, organizational meetings and its official NARNiHS name (courtesy of Joe Salmons).
 ———————————————————————————————————
Initial Organizational Meeting, University of Wisconsin – Madison
30 September – 2 October 2016.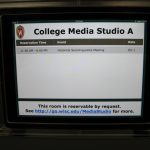 Twelve invited scholars along with students and faculty from UW-Madison participated in discussions of the need for a North American research network in historical sociolingustics (the "NARNiHS manifesto") and the current state of the field.  Ten-minute "lightning talks" by the invitees (Laurel Brinton, Josh Brown, Peter Grund, Rob Howell, Mark Lauersdorf, John Lipski, Felecia Lucht, Tom Purnell, Joe Salmons, Israel Sanz-Sánchez, Fernando Tejedo-Herrero, and Don Tuten) provided a snapshot of current work by North American scholars working in a range of areas in historical sociolinguistics.  Additional time was devoted to planning and strategizing for the development of NARNiHS as an organization.  See the Madison booklet.
———————————————————————————————————
Second Planning Meeting, Emory University (Atlanta)
10-11 May 2017.
Nine invited scholars continued discussion of the development of NARNiHS, focusing specifically on the first public activities sponsored by the organization and scheduled to occur at the LSA 2017 Linguistic Institute.  In addition, the participants (Joshua Bousquette, Al Byrnes, Ben Frey, Rob Howell, Robert Klosinski, Mark Lauersdorf, Paul Roberge, Joe Salmons, and Don Tuten) again shared snapshots of their research in historical sociolinguistics in a round of "lightning talks".  See the Emory booklet.
———————————————————————————————————
NARNiHS at the LSA 2017 Linguistic Institute (University of Kentucky)
5 July – 1 August 2017.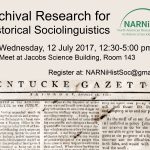 During the month-long Summer Institute of the Linguistic Society of America, NARNiHS sponsored a range of professional activities under the title "Historical Sociolinguistics Toolkit", including a designated "course cluster" of Institute courses, a hands-on archival workshop, informal networking opportunities (details of the "Toolkit"), and the organization's first formal professional conference (see next entry).
———————————————————————————————————
Inaugural Conference of the North American Research Network in Historical Sociolinguistics (NARNiHS)
21-22-23 July 2017.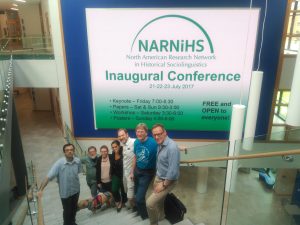 Co-located with the LSA 2017 Linguistic Institute, the inaugural NARNiHS conference (organized by Lauersdorf, Salmons, Tejedo-Herrero, and Tuten along with Abbey Thomas and Kelly Wright) brought together an audience of 75-80 for the keynote presentation by Stephan Elspaß, and 30-35 participants for the full day of professional presentations the following day.  The conference ended with an action-packed digital tools and methods workshop (led by Kelly Wright) and a successful poster session.  Conference website.
———————————————————————————————————
NARNiHS workshop at NWAV 46 (University of Wisconsin – Madison)
2-5 November 2017.
To promote NARNiHS across the professional sub-disciplines that historical sociolinguistics entails, a group of NARNiHS core members (Joshua Bousquette, Rob Howell, Mark Richard Lauersdorf) applied and were selected to present the workshop "Texts as data sources for historical sociolinguistics" at the 46th New Ways of Analyzing Variation conference.  See the full NWAV 46 program, or here: NWAV 46 Booklet (Nov 3) .
———————————————————————————————————
NARNiHS Steering Group Instantiated
October-November 2017.
To provide a portion of "infrastructure" to ensure forward continuity of NARNiHS, the four organizing members (Lauersdorf, Salmons, Tejedo-Herrero, Tuten) formed the first NARNiHS Steering Group in late October – early November 2017, being joined on this initial Steering Group by Josh Brown, Alex D'Arcy, Israel Sanz-Sánchez, and Kelly Wright.
———————————————————————————————————
Sister Society of the Linguistics Society of America
January 2018.

The first official item of business attended to by the NARNiHS Steering Group was the establishment of Sister Society status with the Linguistic Society of America (LSA), officially finalized in January 2018.  Sister Society affiliation with the LSA means, among other things, that NARNiHS will hold an "annual meeting" co-located with the LSA annual meeting every year in January – the 1st Annual Meeting of NARNiHS being held on 05 January 2019 in New York City.
———————————————————————————————————
NARNiHS goes online!
Summer 2018.
To increase its public profile, NARNiHS went live with its official website (a WordPress installation) at narnihs.org (the address you are currently visiting) on 01 June 2018. A Twitter presence, @NARNiHS, was added to the line-up of digital communication tools on 14 September 2018, with the first official NARNiHS tweet (no, not "Hello world!") sent on 18 September 2018. These tools joined the NARNiHS listserv (NARNIHS@lsv.uky.edu) which, as the first communication channel connecting NARNiHS members, had been launched on 11 August 2017, shortly after the inaugural NARNiHS conference in July 2017 (see above).
———————————————————————————————————
NARNiHS expands its "brand"
September-October 2018.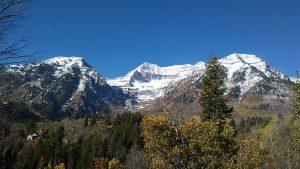 In an effort to build out the research network and increase the direct participation of members in NARNiHS-related activities, the NARNiHS Steering Group put in place guidelines for members to propose "NARNiHS-branded" talks, workshops, panels, etc. at professional venues beyond the NARNiHS Annual Meeting (LSA Sister Society) and NARNiHS @ the KFLC (see below). As an initial test of the possibilities of such "NARNiHS-branded" activities, several members coordinated NARNiHS participation in the annual conference of the Linguistics Association of the Southwest (LASSO), organized by Brigham Young University in Aspen Grove (Utah), 11-13 October 2018. High in the Wasatch Mountains, two NARNiHS-sponsored panels featured six presenters that discussed a variety of topics on language variation and change in the history of Spanish: Tania Avilés, Sonia Kania, Jeremy King, Covadonga Lamar, Israel Sanz, and Donald Tuten. This successful initiative provided a model for future NARNiHS-sponsored panels at other linguistics conferences. See the full LASSO program.